Year Installed: 1961
Last Year Operated: 1983
Section: Modern USA
Manufacturer:
Other Names and Nicknames:
The Petting Zoo was located in the Modern Section in what is now Looney Tunes Land. It was an original attraction when the Park opened in 1961,
The zoo, initially, sponsored by Southwestern Life Insurance was a place guests could visit and pet friendly farm animals, such as cows and goats, as well as birds, and a giant tortoise.
There was also a small seal pool. For a nominal fee, guests could purchase dead fish to feed the seals.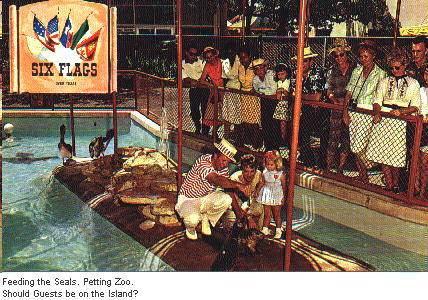 The highlight of attraction of the Zoo was "Sis" Flagg, the Baby Asian Elephant. Although a baby elephant, Baby elephants grow so fast that Sis had to be replaced nearly every season with a younger elephant. The original "Sis" was purchased from Thailand for $2,000.
By 1968, the season of the last "Sis", eight elephant will have lived in the park under the same name. Representing the other political party was Sis's companion, Tulip, the white burro. The Zoo was a significant attraction in the park until the early 70s. It dwindled down over the years until only the Seal Pond remained in the mid 70s. Over a period of a few years, it was gradually downsized until nothing remains of it today. Looney Tunes Land now occupies the space which held the Zoo.
    The Story of Sis, the Six Flags Elephant is now online at: Sissy's (The Six Flags Elephant) Story.