Year Installed: 2008
Last Year Operated: Currently Operating
Section: Modern USA
Manufacturer: Gerstlauer
Other Names and Nicknames: Tony Hawk Big Spin
The Pandemonium opened in 2008 on and around the former site of the Cliffhanger. It was originally named the Tony Hawk Big Spin for the extreme sport athlete, Tony Hawk, and his "big spin" skateboarding maneuver. The name was changed in 2010 to The Pandemonium.
The ride consists of eight single car units with four seats each. Each unit is mounted on a round base that allows it to spin around in a 360 degree circle as it travels around the track.
The ride was built by Gerstlauer Amusement Rides of Germany at a cost of $6.5 million dollars.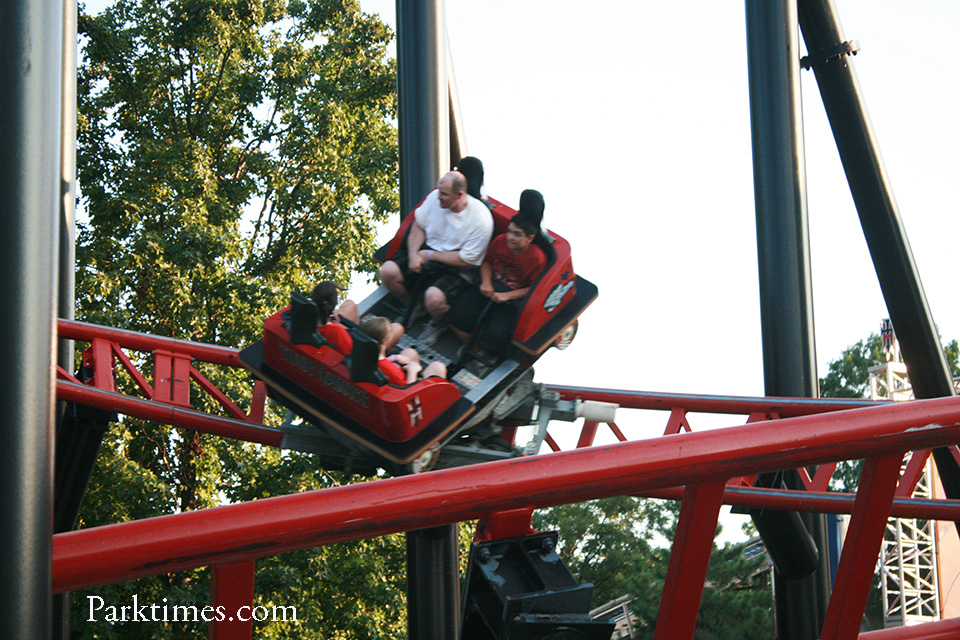 The ride lift is 53 feet high with a 27-foot initial drop. The units travel around the 1,351 foot long at 31 mph.
The ride is designed for a throughput of 800 riders per hour with a ride run of 1 minutes and 51 seconds.
The Big Spin is similar to other Tony Hawk's Big Spin rides that opened the season before at Six Flags Fiesta Texas and Six Flags Saint Louis. The ride opened as Mr. Six's Pandemonium at Six Flags New England in 2005. Another Big Spin opened at Six Flags Discovery Kingdom in the 2008 season. The Texas, Fiesta Texas, and St Louis rides are identical, while the Discovery Kingdom ride varies somewhat.