Year installed: 1961
Located across from the theater and the Skull Island dock stood one of the park's historical recreations, the Confederate Soldier's headquarters and recruitment station. This area was a recreation of a small confederate encampment and included a group of large tents, protected by cannon and framed by colorful civil war recruitment banners mounted on the scaffolding above the tents. Park guests could "enlist" in the Confederate army by signing on the dotted line. In addition, guests could visit with the reenactment players, who displayed their knowledge of civil war times.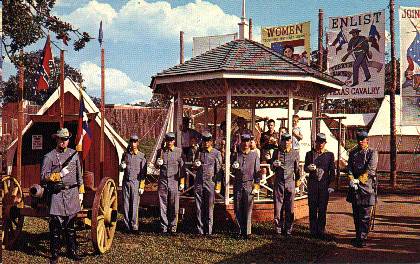 The reenactment players were outfitted in the authentic distinctive gray uniform of the Confederate States of America. They marched through the streets of the confederate section and performed precision drills with their rifles. From time to time during the day, a union spy would be spotted in the crowded. At that time, the confederate soldiers would search the crowd, find the spy, and execute him by firing squad.