(Avalanche Bobsled)
Year Installed: 1987
Last Year Operated: Currently Operating
Section: Mexico
Manufacturer: Intamin
Other Names and Nicknames: Avalanche Bobsled, The Bobsled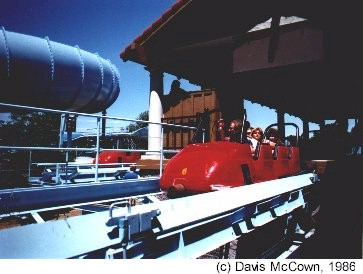 For the celebration of Six Flags Over Texas' 25th Anniversary, the Avalanche Bobsled Ride was introduced. Located in the area of the park that had formally held the Fiesta train, the Bobslide's new feature was that it did not ride on a track. Instead, the cars rode in a curve structure, more similar to the log ride's flume or chute than a roller coaster track. The result of this configuration was that not every ride was exactly the same as the one before it.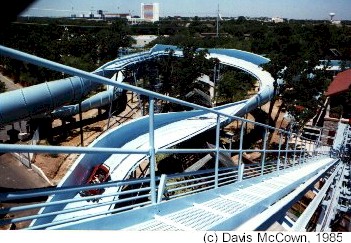 It also created the illusion that the cars could leave the flume area, creating an apprehension of danger. With a lift height of sixty feet, and a track length of 1,490 feet, the ride travels at up to 32 MPH for a ride of approximately 1 and one half minutes to ride.
While the ride was new to Six Flags over Texas, it was not new to the Six Flags' park system, having operated at Magic Mountain from 1984 to 1987. Built by Intamin, the ride is an AG Bobsled style ride.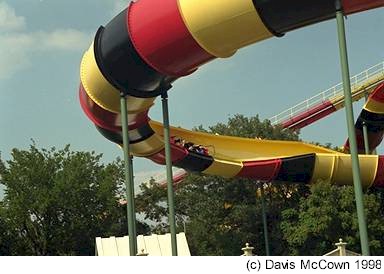 Originally painted blue, the structure was repainted in red and yellow sections to resemble the strips of a snake. It was renamed the La Vibora, Spanish for the "Viper", brining it more closely into the theming of the Mexican section where it resides. Counting the AR as a roller coaster increased Six Flags Roller Coaster to five, the highest it had been to date. The ride was moved from Six flags Magic Mountain where it was installed in 1984.