Year Installed: 1961
Last Year Operated: 1967
Section: Mexico
Manufacturer: None
Other Names and Nicknames:
The Indian Village
Although the Native Americans did not have a flag to be recognized in the park's theme, they did play an important role in the development of Texas. As such, an area representing their contribution was appropriate.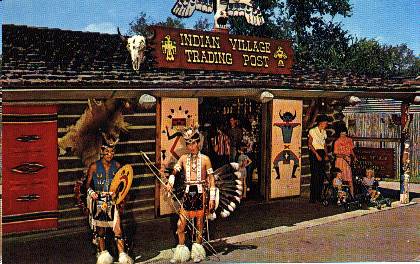 The Indian Trading Post and Village is not contained within a single section, but rather sets on the border between the Mexican and Texas sections. The front of the Indian village is the trading post. The Trading Post is a large souvenir shop selling Western and Indian related items.
Behind the trading post was the Indian village. A set of four tee-pees sat in the corners of a small square blacktop performance area. Here Native Americas performed authentic hoop dances during the day. Typically, two Native American's perform the Hoop dance with wooden hoops, not unlike a hula hoop. A third slowly marks time on an Indian tom-tom.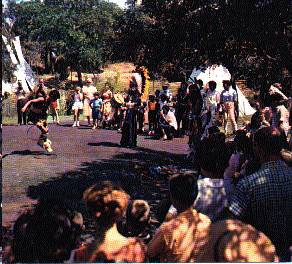 The Indian trading post still sits at is original location. The Indian village, however, has been removed.