Year Installed: 1999
Last Year Operated: Currently Operating
Section: Gotham City
Manufacturer: B&M
Other Names and Nicknames:
In 1999 Six Flags continued its DC Comics theming with the introduction of Batman The Ride, the park's 10th roller coaster. An entire themed area, Gotham City was added to accommodate the ride. Two acres consists of the Gotham City Park. Several games stands, as well as the Mr. Freeze, are located in the new section.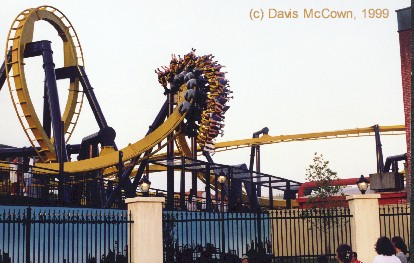 The Batman is the park's only suspended roller coaster, with the cars riding suspended below the track. In addition to being suspended, the ride is floorless, so that the rider's legs hangs suspended below the cars, with nothing under them but the grounds.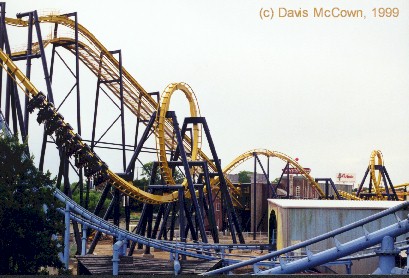 The ride, built by Bollinger & Mabillard of Switzerland. contains 2,700 feet of track. Featured ride elements include a 77 foot tall vertical loop, a 68 foot tall vertical loop, two 40 feet tall corkscrew spirals, "s" curves, flat spins and a zero gravity heartline spin. The ride features two 52 (32) passenger trains, with riders suspended four across.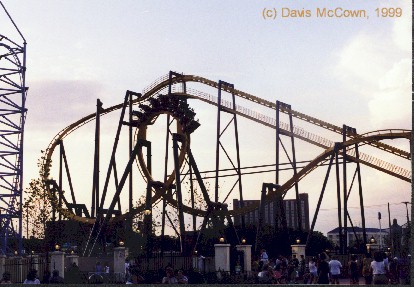 The ride reaches 52 mph, with a height of 109 feet. Riders feel up to 4 g's. Designed capacity is 1,400 riders an hour. The ride is one of eight installed in various Six Flags parks.