Year Installed: 1968
Last Year Operated: Currently Operating
Section: Tower
Manufacturer: Intamin
Other Names and Nicknames: Oil Derrick; Derrick
The Tower is a 300 foot tall observation tower shaped like an oil derrick. It first opened for the 1969 Season and is the park's ninth oldest operating ride. It is billed as "the world's largest land based oil derrick", but of course it can not function as an actual oil tower. The Tower is the tallest structure in the park.
The ride was built by Intamin. It was constructed in an area that was a part of Skull Island which contained the Pirate Ship and cave. It replaced the Crane Ride in the Boomtown section as the park's observation ride. The Crane Ride was closed at the end of the 1968 season.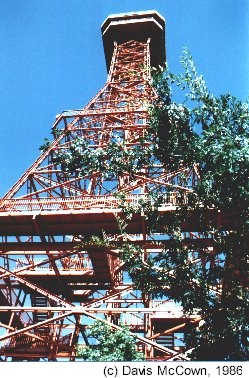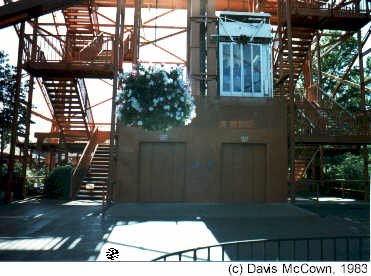 Two high speed elevators take riders to the tower's two observation platforms. From there the entire park can be viewed. On a clear day, guests can see all the way to Dallas on the East and Fort Worth on the West. Arlington is to the South and the mid-cities to the North. Telescopes are also available for a quarter for close up viewing.
A railing wraps around the tower at the 100 foot level. This railing is nonfunctional, however, and only provides "balance." There is no platform at this level.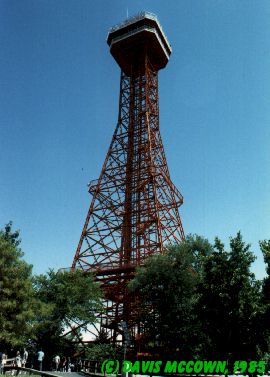 The top of the structure is 300 feet high; the highest guest platform is 267 feet high and 50 feet wide; the lower guest platform is at 255 feet and is 45 feet wide; the "fake" railing is at approximately 100 feet; the old slide level, which can function as a lower observation deck serviced by stairs, is at 47 feet and is 75 feet wide; the base level is 74 feet wide.
Originally the tower had a twelve lane slide attached to the fifty foot platform. The slides traveled off the East side of the tower, towards the area that is now the roaring rapids. The slide was removed in 1976. The platform and railing are still visible at that level.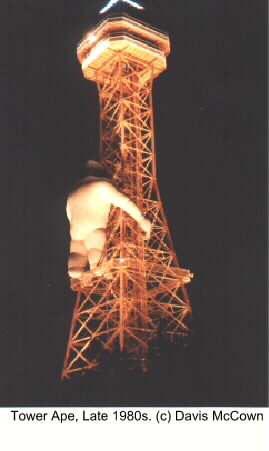 In the 1980s, the shoulder high railing system was supplemented with a mesh fencing which caged in the entire observations deck.
The entire elevator system was rebuilt and closed for the 1998 season.
At Halloween, the Tower is decorated with a Giant Ape. At Christmas, the Tower is decorated with a star. In the 1998 season, the Ape sprung a hole and had to be taken down.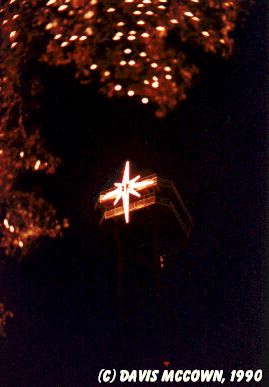 The Tower has sister towers at Kings Island in Ohio and Kings Dominion in Virginia. Although the other Towers are shaped to look like the Efle Tower, they are both dimensionally almost identical to the Texas Tower.
Views