Section Tower
Year installed 1991
Last Season Operated 1991
The Hollywood Stunt Show was staged during 1991 at the Tower Theater, where it replaced the Dolphin Show. The show featured trained stuntmen performing various action scenes. There was little change in the theater for the new show. The pool itself was covered to create a large performance area, with a western town facade added at the back.
The Hollywood Stunt Show was produced by Benros Worldwide Entertainment and was staged for one year. Benros later produced Gunfight After the OK Corral and Bad Day at the Backlot stunt shows in the Texas section of the park.
In 1992, the show was replaced by the Batman Stunt Show.
In addition to producing shows in numerous other parks, Benros staged the Colossus show for Freedomland in 1961.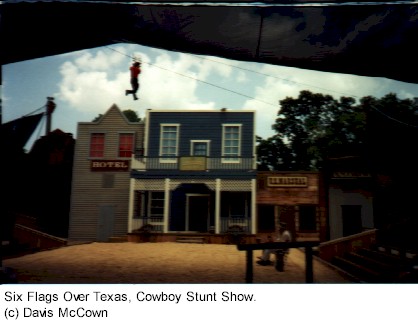 During the show, one character entered the arena using a zip line mounted on the fifty foot platform of the tower.