Year Installed: 1976
Last Year Operated: 2012
Section: Goodtimes Square
Manufacturer: Intamin AG
Other Names and Nicknames:
America's Bicentennial year was a year of major celebration throughout the Country. It was also the year that Six Flags celebrated its 15th anniversary. New for the Bicentennial year was the "Texas Chute Out", the world's first "modern" parachute drop ride. The ride was built by Intamin AG, in Berne, Switzerland, at a cost of $1.5 million.
The ride was located to the east of the Good Times Theater. The 200 foot tall tube structure had twelve forty foot arms extending from the top of the structure in an 85 foot diameter. Cables on each arm pulled a small bench seat up to 175 feet above the ground. The ride then stoped for a brief moment, long enough to give the rider a bird eye's view of the surrounding areas. The ride then released the bench, allowing the ride to follow free fall thirty-five feet towards the ground below.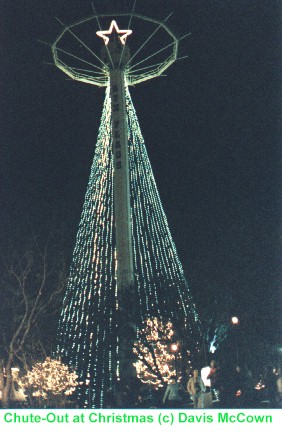 In seconds, however, the ride's thirteen and a half foot diameter parachute engages above the rider, allowing the rider to "float" down another one hundred and forty feet to the surface. The ride was driven by twelve motors and winches located at the top of the ride. These controlled the 2 and ½ miles of steel cable used by the ride. Access to the motors was through a two man elevator located inside the eight foot tube structure. Each ride lasted 28 seconds.
The design capacity for the ride was 1,500 riders per hour. Two to three rides could ride at a time. Built by Intamin AG, the ride was known as the "first modern" parachute ride due to the fact that it was based on similar earlier rides. The most famous of the earlier rides include one built for the 1939 New York's World's Fair and moved to Coney Island in 1941, where it operated until 1968.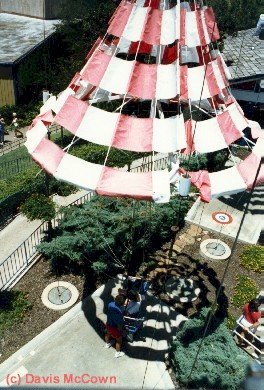 A similar ride, the Great Gasp was constructed at Six Flags Over Georgia in 1976. It closed and was demolished in 2005. A third sister ride, the, Sky Chuter opened at Six Flags Over Mid-America in 1978 and closed a mere four years later, in 1982.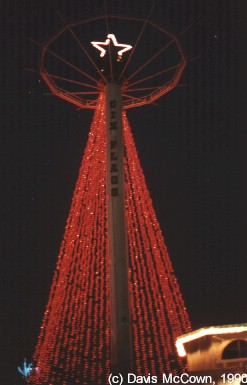 The Texas Chute-out operated for thirty-seven seasons. It was closed in 2012. It operated in the park for more seasons than any other ride which has been removed.