Year Installed: 1963
Last Year Operated: 1968
Section: Boomtown USA
Manufacturer:
Other Names and Nicknames: Crane Ride
The main attraction of the original Boomtown was the 190 foot tall Sky Crane Ride. This unique ride was actually adapted from a cargo crane. The ride units consisted of two metal teardrop shaped baskets, each of which could hold 14 guests. Each was attached to a cable at the end of one of the structure's "Y" shaped girder arms.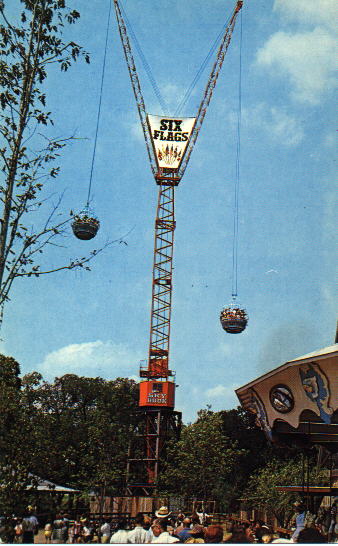 After loading, the basket was lifted up into the air. Midway up the height of the structure, the basket stopped and the entire structure rotated 180 degrees. While in that position, the basket rose again, to a total of 155 feet in the air. As the basket rose into the air, the basket on the other arm descended to be unloaded. While the other basket was unloaded and reloaded, guests in the first basket enjoyed a panoramic view of the park below them.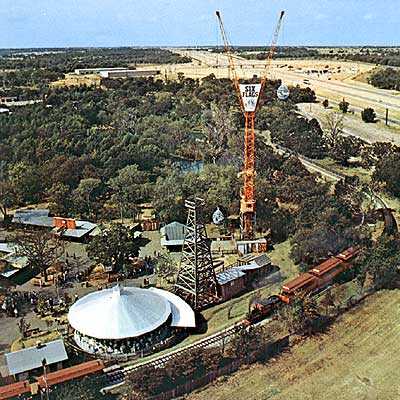 Once the other basket was loaded, it ascended halfway up as the first basket descended. At the half way point, the baskets again rotated, so that the original basket could descend to the dock and be unloaded while the guests in the second basket could enjoy the view.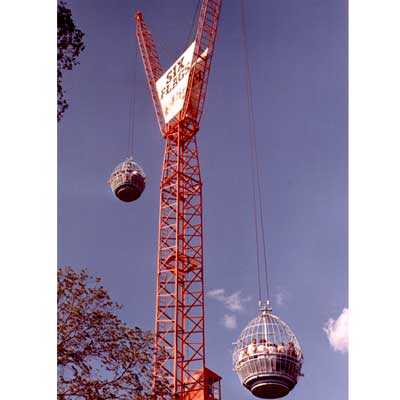 Strictly speaking, the ride was not "themed" to anything in particular in the boomtown section. It was, however, a unique experience and provided a view of the park unmatched by any ride to that date. It also provided a visual identity for the park from the freeway and surrounding area until 1968 when it was removed and replaced by the Oil Derrick as the park's high ride.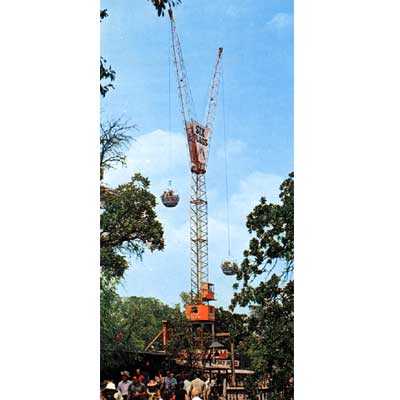 The ride itself had quite a history, having first thrilled attendees at the Brussels' world's fair of 1958. From there it came to Texas. After being removed from Six Flags Over Texas in 1968, the ride was dismantled and moved to Six Flags Over Georgia, where it stood as that park's major focal point until it was sold to Magic Springs amusement park in Arkansas, where it operated for several years. It was later converted to a bungee jump platform.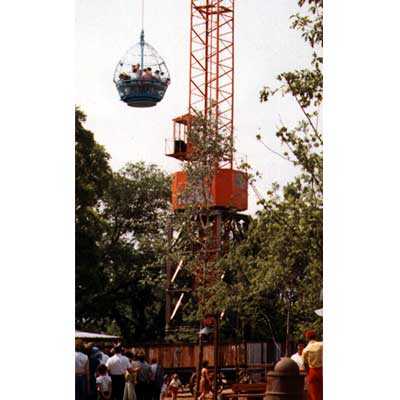 During a major remodeling of the Arkansas park it was dismantled and sold for scrap metal.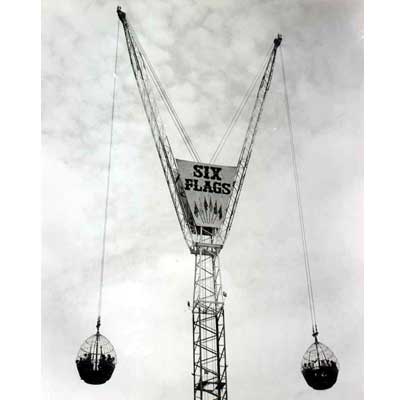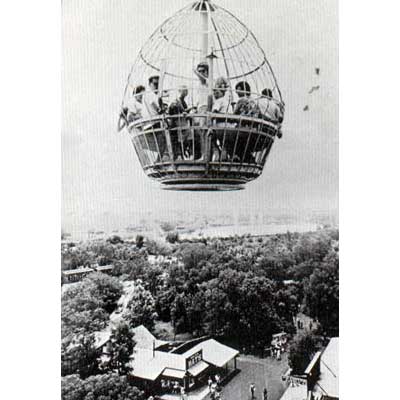 January 1, 2020 by Davis_McCown (Edit)