Year Installed: 1969
Last Year Operated: Currently Operating
Section: Boomtown USA
Manufacturer: Arrow Development
Other Names and Nicknames:
The Mini-Mine Train was built in 1969, making it tied with the Tower for the 9th oldest operating ride in the park. (Both have been out of operation for a season for remodeling.)
The ride was built by Arrow Development, the same company that built the Runaway Mine Train. Located next to the original "Runaway Mine Train", the Mini-Mine train was specifically designed to be a roller coaster for the younger crowd. The lift hill is twenty (20) feet high.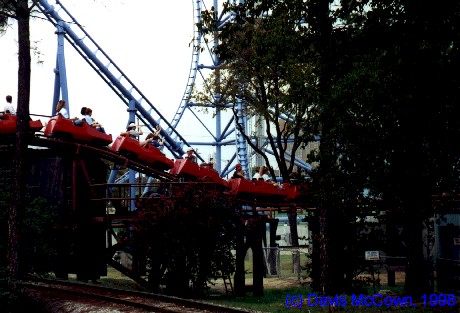 The train goes around a basically circular track and back to the que house. On slow days, to make the ride a little longer, the trains are run twice for each ride.
The track was rebuilt in 1997 to accommodate the New Mr. Freeze ride.
(c) Davis McCown, 1999