Fiesta Train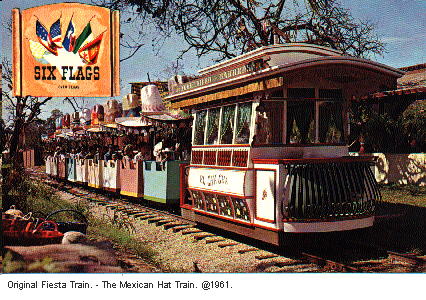 The Ferrocarril Fiesta Train was the type of ride that defined the early years of Six Flags. Located in the Mexican Section, the well themed and colorful ride was enjoyed by everyone, from the very young, to the very old. It opened with the park in 1961, and entertained guests until it was removed after the 1978 season.
The ride consisted of two diesel-powered narrow gauge trains which carried guest through a series of light-hearted animations themed to a colorful Mexico. One of the trains was named "El Cho Cho", the other "El Cha Cha." The original passenger cars had large sombreros for tops, earning the ride the nickname, "The Hat Train."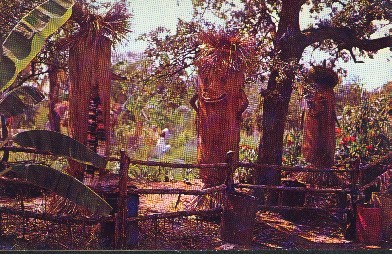 Dancing Tamelas
The trains traveled past peaceful gardens, maraca bands; dancing tamales, spinning endlessly; miniature Mexican men, riding bake and forth on little burrows; and the 'Xochimilco' flower gardens. The big finale was a bull fighting scene.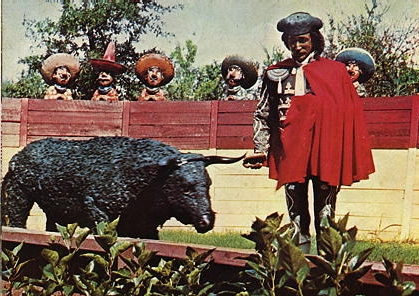 "Bull Fighter"
For the 1968 season, the trains and animations were completely redesigned by Sid & Monty Krofft. The engines were redesigned as dragons and the trademark sombreros were replaced with more traditional cars. The central component of the remodeled ride was a Volcano which dominated the section's landscape. A small stream of "lava" flowed down the volcano, which "erupted" every few minutes with a loud "boom".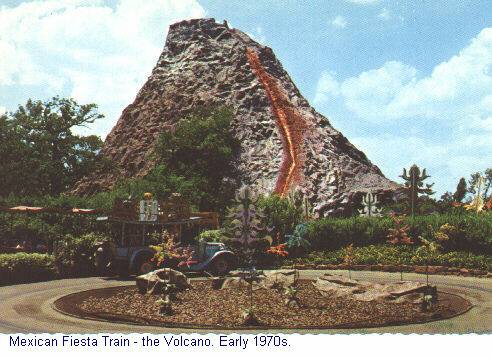 While still a family ride, the graceful scenes were replaced with more exciting ones. Mexican children, singing the ride's trademark "Fiesta" song, danced at the station. A "run-away bus" served as the remodeled rides first animation.
The train entered into the volcano and exited in the middle of a Mexican town. A gun battle was taking place in the town, and the train passed through the middle of it. Peaking from one window was Batman and Robin, foreshadowing their later more major role in the park. The shoot-out scene in Bugs Bunny's Gold River adventure is very reminiscent of this scene.
The ride ended with a trip through a circus, in which numerous animated characters performed various feats to loud music.
The La Vibora Ride, (originally, the Avalanche Bobsled), is now located in the general area in which the trains ran.