The Gunfighters
The Gunfighters
parktimes
Sun, 08/15/2010 - 16:09
The Gunfighter Shows have been held in the Texas section since the park opened in 1961. The shows recreate the good-guy/bad-guy shoot-outs of the wild west. They are designed to be entertaining more than historically accurate. Typically they take place on the street in front of the Courthouse in the Texas Section.  Over the years, however, shows have been held in various locations around the park. In some shows, outlaws rob the Train while it is running, leading to a shoot-out in front of the Texas train station.  Shoot-outs have also been held in front of the Jersey Lilly, around the corner from the Courthouse.  
Starting in 1994, the Texas section hosted the Texas Backlot Stunt Show, an outdoor action-comedy stunt-show featured in the Texas section. Additional sets were built next to the Jersey Lilly for this show. The first show, the O.K Corral Shootout Backlot show, was tied to the release of the Warner Brother's movie Wyatt Earp. The stunt shows continued through the 1990s.
At this time, the Gunfights continue in front of the Courthouse.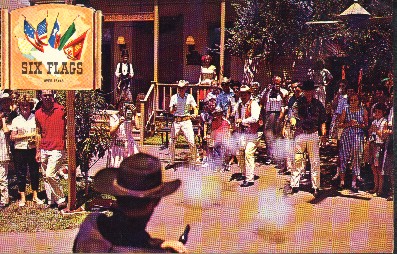 Gunfights in front to the Texas Courthouse. From Six Flags Postcard. Note Judge Roy bean on the porch with a "hanging rope". Also note the park photographer with a Polaroid Camera in the Mid-left of the photograph. The photographers sold the Polaroid pictures to guests.
Gunfighters in front of the Texas Astrolift. The Texas Railroad station would be out of the photograph to the photographers left. The area in the upper left corner of the photograph is now the location of the Boot Scootin' Ride.