Year Installed: 1992
Last Year Operated: Currently Not Operating
Section: Confederacy
Manufacturer:
Other Names and Nicknames: The Cave, Gold River
Yosemite Sam and the Gold River Adventure
The Speelunkers cave opened for the 1992 season without the original Speelunkers. It was now the "Yosemite Sam and the Gold River Adventure ". The new version of the ride featured Bugs Bunny and the other Looney tunes characters in center stage.
Also, known as the Gold River Adventure, the ride tells the story of Yosemite Sam's robbery of the "payroll". "Sheriff" Bugs Bunny and his friends are responsible for seeing that the gold is returned and that Yosemite Sam is locked up for his misdeeds. As would be anticipated, the story ends happily.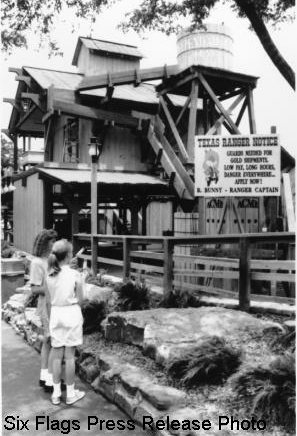 The ride intimations and features were designed by R & R Creative Amusement Design, and built by Sally Dark Rides, a ride and animation company. According to the company, the ride contains 29 animated characters, and a total of 125 animations and other special effects.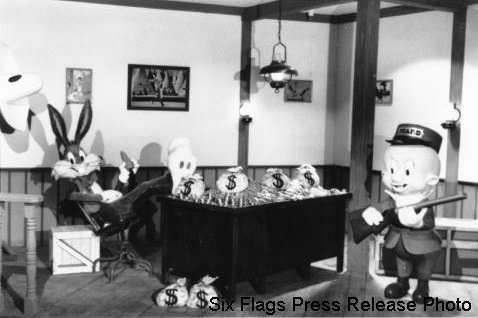 Although all of the inhabitants of the cave were removed and replaced, the ride structure itself remained the same. The special effects, such as the storm and rotating barrel were removed. The make-over cost $5 million dollars and opened in June of the year.