The Confederacy (Old South) Section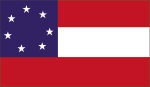 Between 1861 and 1865 Texas was a member of the Confederate States of America. The Confederate section, now known as the "Old South" section, recreates Texas of the mid 1800s.
    The original attractions in the Confederacy included the 1,200 seat Amphitheater, which in 1968 was converted to the 950 seat  Southern Palace. In addition, present for the first year were the  Confederate recruiting station and old south re-enactment performers, Little Dixie Carousel, and the  Butterfield Stage Coach.  A Dixieland Band provided additional entertainment and Nalar's Plantation House was one of the park's largest eating areas. 
Skull Island was located in the Confederate section, but due to its own extensive history, themeing and numerous attractions, it is covered in a separate article.
In 1962, the Caddo War Canoes was added, with the original entrance to the west of the Amphitheater, in the Confederate Section. The canoes were moved to Boomtown for the 1964 season.
In 1964, the Spee-Lunker's Cave Ride was added and the Stagecoach run shortened and the Que house was moved from next to Chicken Plantation to across from Cave. At the end of the 1967 season, the Stagecoach ride was completely removed.
In 1969, the Chevy Show was added at the site of the Stagecoach Que-house.
After the 1974 season, the Little Dixie Carousel, which had been earlier renamed as the Flying Jenny, and moved down the street closer to the cave entrance, was removed.
The Flying Jenny was replaced for the 1975 season by the Red Baron children's ride.
At the end of the 1982 season, the remainder of Skull Island was removed to make remove for the Roaring Rapids.
At the end of the 1991 season, the Spee-lunkers were removed from Cave and replaced with Warner Brother's characters. The Ride was renamed as Gold River.
In 1996, Runaway Mountain opened next to the Plantation house.