Year Installed: 1962
Last Year Operated: 1983
Section: Boomtown USA
Manufacturer:
Other Names and Nicknames:
The Caddo were an Indian tribe native to Texas. Much in the style of the original rides, this ride recreated a ride on an "Indian War Canoe".
The five long canoes sat approximately sixteen guests, on benches of two adults each. They were steadied and steered by an employee, dressed in Indianan costumes, at the back of the canoe. On some occasions, an "Indian" employee sat at front of the canoe as well.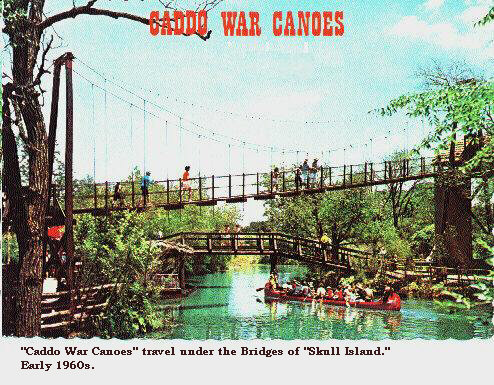 In addition to actually steering the canoe, the employee would often entertain the guests with instructions on how to paddle, as well as jokes and antidotes about the park and sights.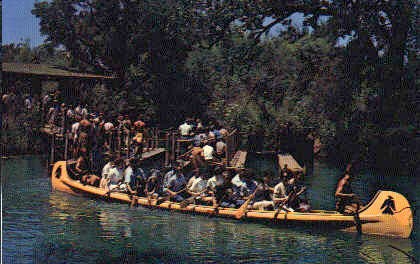 Much to the surprise of many of the guests, who frequently believed that the ride had some type of hidden motors or tracks, the canoes has no method of propulsion other than their paddling. In addition, the canoes were not on any type of track or guide. In fact, the Indians often encouraged their guests to race any other canoe in the area back to the dock. The canoes traveled around a small pond named "Caddo Lake"
In the middle of the water was a small island, named "Caddo Island." The canoes traveled completely around the small island which contained a small Indian village, complete with teepees. The original loading dock for the ride was at the end of a long path that traveled between the Amphitheater and Skull Island River.
The Canoes were removed from the park at the end of the 1983 season.